2022 GLG Natural Gemstone Jewelry Show Dates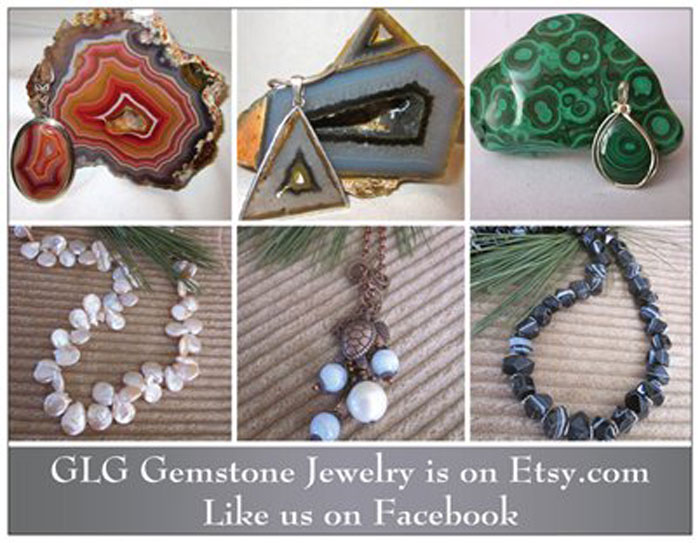 December 2022
44th Annual Landmark Center Holiday Bazaar
December 1,2022
GLG Jewelry at the Landmark Holiday Bazaar, 75 5th St W , St Paul, MN. Thursday, December 1, 2022 10 am – 7 pm, Friday, December 2, 2022 10 am – 7 pm
(Thursday & Friday Twilight Shopping Special: Enjoy a complimentary glass of wine or soft drink, 4 – 7 pm), Saturday, December 3, 2022 10 am – 5 pm We're located on the MAIN floor! Shop our brightest holiday collections: Steampunk, Twelve Midnight, Rustic Rebel, Creative Copper, Celtic Symbols & more. We'll feature a wide variety of natural stone jewelry: necklaces, earrings, pendants and bracelets plus our fabulous Agate Art pieces. Gather your friends and make it a special event for holiday shopping. Live music! Admission $5, Under 12 FREE






January 2023
2023 Tucson Gem and Mineral Show!
January 27, 2023
Mark your 2023 calendar. Tucson, AZ hosts the largest gem and mineral show around. For 3 weeks, Tucson becomes the International Hub for gem and mineral dealers from around the world. Over 40 different shows and venues. CHECK OUT THE INTERNET FOR MORE INFORMATION.




February 2023
March 2023
Cedar Valley 2023 Rock & Mineral Society Annual Show
March, 25, 2023
GLG will be at the 58th Annual 2023 Cedar Valley Rock & Mineral Society Show. Saturday, March 25, 8:30 AM to 6:00 PM and Sunday, March 27, 9:30 AM to 4:00 Location:Hawkeye Downs Expo Center, CEDAR RAPIDS, IOWA This show regularly draws 4000-5000 people! It's our first show of 2023!! Check our stunning Crazy Lace, Laguna, Dry Head, Blue Lace, Peanut Wood, Coral, Polyhedroids, Lake Superior Agates, hot spring jewelry plus surprises from the 2023 TUCSON GEM AND MINERAL SHOW. NOTE THE EARLY 8:30 OPENING. THE EARLY BIRD....WELL YOU GET THE IDEA!


April 2023
Chippewa Valley Gem & Mineral Rock & Gem Show
April 22, 2023
GLG will be at the 2023 Chippewa Valley Gem & Mineral Society Rock &Gem Show, Saturday, April 22 from 9-5 and Sunday, April 23 from 10-4 Where: 2022 Eau Claire County Expo Center, 5530 Lorch Avenue, EauClaire, WS Rocks, specimens, crystals, minerals, jewelry and all things rock. GLG will introduce our 2023 specimen collections featuring Laguna Lace agate, Blue Lace Agate, Wave Dolomite and SURPRISES FROM THE TUCSON GEM AND MINERAL SHOW. ! Check out our new jewelry collections just in time for spring. See you there.
May 2023
June 2023
Coulee Rock Club Annual Rock, Gem & Mineral Show 2023
June 03, 2023
GLG will be at the 20223Coulee Rock Club annual show will be Sat. June 3 from 10-4 and Sunday, June 4, 10-4 The show is INDOORS at the Onalaska Omni Center Arena, 1255 Riders Club Road, Onalaska, WI Lots of polished rock/agate &jaspers, geodes, crystals, garden rock art, meteorites, chakra collection & more. Food, kids activities, speakers, demo and lots of free parking! A great drive from the Twin Cities.
July 2023
August 2023
September 2023
October 2023
November 2023