2022 GLG Natural Gemstone Jewelry Show Dates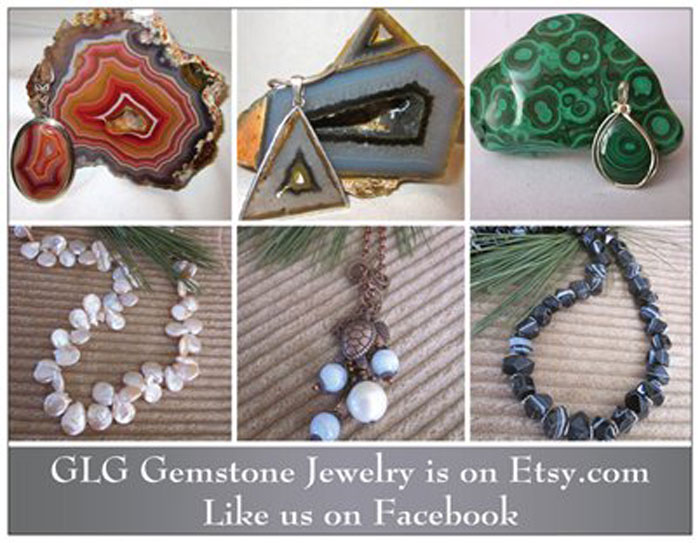 July 2022
Anoka Riverfest 2022
July 9, 2022
Join GLG at the Anoka Riverfest 2022! Mark your calendars: ONE DAY ONLY, July 9th from 9am to 5pm Located in downtown Anoka, MN Summer Nights jewelry collection in shades of pinks, reds, yellow, greens & blue. Check out our chakra & spirit collections! Rock Garden Creations! Rustic Rebel necklaces....and MORE. Have fun with our 2022 jewelry plus polished rock specimens.

Moose Lake Agate Days 2022
July 16, 2022
GLG will be INSIDE at the Carlton County Gem & Mineral Club'S annual MOOSE LAKE AGATE DAYS Saturday, July 16 (9-5) and Sunday July 17, (10-4) RIVERSIDE ARENA, 20 EARL DRIVE, Moose Lake, MN GLG will be INSIDE the arena. Check out our rough rock, garden rock art, crystals, fossils, amethyst cathedrals, and unique jewelry. How about agates of all kinds, stunning jaspers, crystals galore, and more. A two day super show!
Indianhead Rock, Gem & Mineral Society Annual Show 2022
July 23, 2022
GLG will be at the 2022 Indianhead Rock, Gem & Mineral Society Annual Show.
Where: Frederic Wisconsin High School, 1437 Clam Falls Dr., Frederic, Wisconsin When: July 23 Sat: 10-5 & July 24, Sun: 10-4 Fossils, agates, jaspers, specimens, amethyst cathedrals, large citrine specimens, rough rock, and very special prices on a surprise collection! Come join the fun.





August 2022
Northwest Wisconsin Gem & Mineral Society Annual Show 2022
August 20, 2022
Join GLG at the 2022 Northwest WI Gem & Mineral Society Annual Show in Rice Lake, Wis. Aug. 20 and Aug. 21 Sat. 10-5 Sun. 10 Where: Barron County Fairgrounds, 101 Short Street/Hwy. 48. Rice Lake, WI Check out unique specimens, minerals, rough rock, amethyst cathedrals, citrine, crystals, plus a sneak peak of our fall jewelry collection.














September 2022
Minnesota Mineral Club Annual Rock & Gem Show 2022
September 24, 2022
THE BIG ONE IS HERE. GlG will be at the MMC Annual Rock & Gem Show on Saturday, Sept. 24, 10-5 and Sunday, Sept. 25 from 10-4 MN STATE FAIRGROUNDS-DAIRY BUILDING! GLG will feature new and fabulous specimens and minerals--green fluorite, crazy lace, laguna agate, garden rock creations, meteorites and so much more. ....Over 2000 people attended the 2021 show. Be sure you don't miss the 2022 show. Indoor and outdoor vendors.

October 2022
Des Moines Lapidary Society Gem, Jewelry, Mineral & Fossil Show 2022
October 15, 2022
GLG will be at the 2022 Des Moines Gem, Jewelry, Mineral, and Fossil show on Sat. Oct. 15, 9-5 and Sun., Oct. 16, 10-4. This is a HUGE show with thousands of visitors. IOWA STATE FAIR GROUNDS, 3000 E. Grand Ave., DES MOINES, IOWA! New specimens! New jewelry! New agate art! Catch the fall scenery and join us for a FABULOUS FALL ROCK SHOW!
Anoka County Gem & Mineral Club Annual Show 2022
October 29, 2022
NEW SHOW DATE: NO TRICK! JUST FABULOUS ROCK TREATS & FREE ADMISSION! The Anoka County Rock and Gem Club's 2022. When: OCTOBER 29th, 10-5 and Sunday, OCTOBER 30, 10-4. SAME LOCATION: Crystal Community Center, 4800 Douglas Drive N, Crystal, MN GLG will showcase unique minerals, polished specimens, gemstone jewelry, garden rock art, meteorites, amethyst cathedrals, chakra and spirit rock collections.

November 2022
Gustavus Adolphus Arts and Crafts Show
November 26, 2022
GLG is pleased to announce that we will be at the Gustavus Adolphus Arts and Craft Show, Saturday, November 26, 2022 from 9am to 4pm. 1669 Arcade St. (Hwy. 61 & Larpentuer) St. Paul, MN YES, IT'S THE SATURDAY AFTER THANKSGIVING! GLG will showcase unique gifts for that special someone on your holiday shopping list. See you there!





December 2022
44th Annual Landmark Center Holiday Bazaar
December 1,2022
GLG Jewelry at the Landmark Holiday Bazaar, 75 5th St W , St Paul, MN. Thursday, December 1, 2022 10 am – 7 pm, Friday, December 2, 2022 10 am – 7 pm
(Thursday & Friday Twilight Shopping Special: Enjoy a complimentary glass of wine or soft drink, 4 – 7 pm), Saturday, December 3, 2022 10 am – 5 pm We're located on the MAIN floor! Shop our brightest holiday collections: Steampunk, Twelve Midnight, Rustic Rebel, Creative Copper, Celtic Symbols & more. We'll feature a wide variety of natural stone jewelry: necklaces, earrings, pendants and bracelets plus our fabulous Agate Art pieces. Gather your friends and make it a special event for holiday shopping. Live music! Admission $5, Under 12 FREE






January 2023
2018 Tucson Gem and Mineral Show!
January 27, 2023
Mark your calendar. Tucson, AZ hosts the largest gem and mineral show around. For 3 weeks, Tucson becomes the International Hub for gem and mineral dealers from around the world. Over 40 different shows and venues.



February 2023
March 2023
April 2023
Chippewa Valley Gem & Mineral Rock & Gem Show
April 22, 2022
GLG will be at the Chippewa Valley Gem & Mineral Society Rock &Gem Show, Saturday, April 22 from 9-5 and Sunday, April 23 from 10-4 Where: 2022 Eau Claire County Expo Center, 5530 Lorch Avenue, EauClaire, WS Rocks, specimens, crystals, minerals, jewelry and all things rock. GLG will introduce our 2023 specimen collections featuring Laguna Lace agate, Blue Lace Agate, Wave Dolomite and more! Check out our new jewelry collections just in time for spring. See you there.
May 2023
June 2023