2023 GLG Natural Gemstone Jewelry Show Dates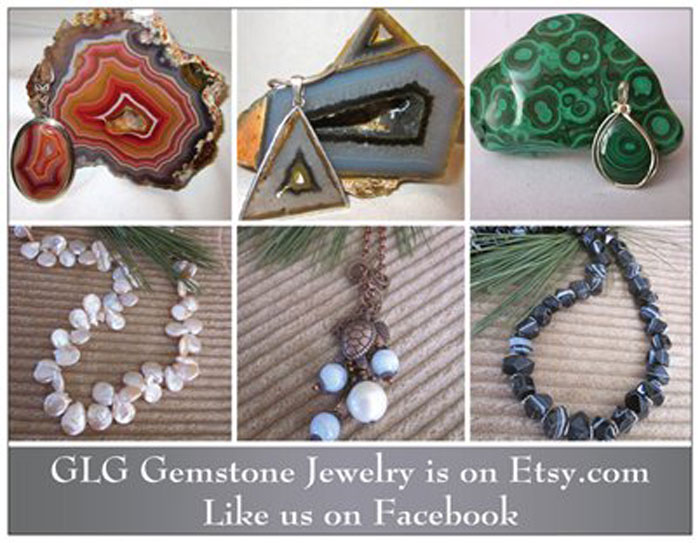 March 2023
Cedar Valley 2023 Rock & Mineral Society Annual Show
March, 25, 2023
GLG will be at the 58th Annual 2023 Cedar Valley Rock & Mineral Society Show. Saturday, March 25, 8:30 AM to 6:00 PM and Sunday, March 26, 9:30 AM to 4:00 Location:Hawkeye Downs Expo Center, CEDAR RAPIDS, IOWA This show regularly draws 4000-5000 people! It's our first show of 2023!! Check our stunning Crazy Lace, Laguna, Dry Head, Blue Lace, Peanut Wood, Coral, Polyhedroids, Lake Superior Agates, hot spring jewelry plus surprises from the 2023 TUCSON GEM AND MINERAL SHOW. NOTE THE EARLY 8:30 OPENING. THE EARLY BIRD....WELL YOU GET THE IDEA!



April 2023
The Rock N' Gem & Artisan Show 2023
April 1, 2023
New Show! Put together Rocks, Minerals, Fossils, & Gemstones plus Artisan Creations means lots of creativity. WHERE? Community Event Center, 1000 School St. NW, Elk River, MN 55330.Two Days! Saturday April 1, 9-4 and Sunday, April 2, 9-4. GLG will feature exciting finds direct from Tucson plus amazing polished specimens, and our stone jewelry collections-blue lace agate, Schalenblende from Poland, Fordite, and many more! Add our stone art creations for spring and summer.
May 2023
Cuyuna Rock, Gem & Mineral Show 2023
May 13, 2023
Join GLG at the 2023 Cuyuna Rock, Gem & Mineral Show on May 13, Saturday (9-5) and May 8, Sunday May 14 (10-4) (Mother's Day weekend) Mom's admission FREE on Sunday. Location: Crow Wing Co. Fairgrounds, 2000 SE 13th St., Brainerd, MN Check our unique agate & jasper specimens, gemstone jewelry, rough rock, crystals, garden rock art, geodes and Lake Superior Agates. Did I mention meteorites? You'll find treasures galore.


JCI Mainstreet Day Arts & Craft Fair, Hopkins, MN
May 20, 2023
Mainstreet Day Arts & Craft Fair in downtown Hopkins, MN is a one day celebration that takes place on...you guessed it, Mainstreet! GLG will have stunning natural stone jewelry, polished specimens, and cool rock art creations. Open to the public from 9 a.m. to 4 p.m. on Saturday, May 20, 2023, the show takes place rain or shine. In addition to the arts and craft fair, there will be music and live entertainment. See you there!
June 2023
Coulee Rock Club Annual Rock, Gem & Mineral Show 2023
June 03, 2023
GLG will be at the 20223Coulee Rock Club annual show will be Sat. June 3 from 10-4 and Sunday, June 4, 10-4 The show is INDOORS at the Onalaska Omni Center Arena, 1255 Riders Club Road, Onalaska, WI Lots of polished rock/agate &jaspers, geodes, crystals, garden rock art, meteorites, chakra collection & more. Food, kids activities, speakers, demo and lots of free parking! A great drive from the Twin Cities.
Afton Strawberry Festival 2023
June 24, 2023
GLG will be at the Afton Strawberry Festival in the historic village of Afton, MN. Sat. June 24th 10-5 and Sunday June 25th 10-4 [Afton Town Square Park] We'll feature an array of quality natural stone pendants in 30 different kinds of stones...casual and classic. Free-form necklaces perfect for summer....light and airy and of course, a touch of stone. Birthstone jewelry! Lots of specimens. Oh, and such fabulous music and food. Family event.








July 2023
Anoka Riverfest 2023
July 8, 2023
Join GLG at the Anoka Riverfest 2023! Mark your calendars: ONE DAY ONLY, July 8th from 9am to 5pm Located in downtown Anoka, MN Summer Nights jewelry collection in shades of pinks, reds, yellow, greens & blue. Check out our chakra & spirit collections! Rock Garden Creations! Rustic Rebel necklaces....and MORE. Have fun with our 2023 jewelry plus polished rock specimens.


Moose Lake Agate Days 2023
July 15, 2023
GLG will be INSIDE at the Carlton County Gem & Mineral Club'S annual MOOSE LAKE AGATE DAYS Saturday, July 15 (9-5) and Sunday July 16, (10-4) RIVERSIDE ARENA, 20 EARL DRIVE, Moose Lake, MN GLG will be INSIDE the arena. Check out our rough rock, garden rock art, crystals, fossils, amethyst cathedrals, and unique jewelry. How about agates of all kinds, stunning jaspers, crystals galore, and more. A two day super show!
Indianhead Rock, Gem & Mineral Show 2023
July 22, 2023
Join GLG at the Indianhead Rock and Mineral Club Show to be held at the High School Gym, 1437 Clam Falls Drive - Frederic, WI 54837 Saturday July 22 from 10-5 and Sunday, July 23th from 10-4 We'll have a new collection of polished specimens, amethyst clusters, agates, jaspers, mineral plus stunning natural stone pendants. Family friendly. Lunch is served on site. Free admission, Free parking, Door prizes, Agate pit for kids.





August 2023
Northwest Wisconsin Gem & Mineral Society Annual Show 2023
August 19, 2023
Join GLG in Rice Lake, WS, for the 2023 Northwest WI Gem & Mineral Society Annual Show. When? Aug. 19 and Aug. 20 Sat. 10-5 Sun. 10-4 Where? Barron County Fairgrounds, 101 Short Street/Hwy. 48. Rice Lake, WI Wide variety of polished specimens, rough rock, amethyst cathedrals, citrine, crystals, plus 25 varieties of sterling silver stone pendants!











September 2023
Minnesota Mineral Club Annual Rock & Gem Show 2023
September 23, 2023
THE BIG ONE IS HERE. GlG will be at the MMC Annual Rock & Gem Show on Saturday, Sept. 23, 10-5 and Sunday, Sept. 24 from 10-4 MN STATE FAIRGROUNDS-DAIRY BUILDING! GLG will feature new polished specimens and gorgeous minerals--green fluorite, crazy lace, laguna agate, garden rock creations, meteorites and so much more. ....Over 2000 people attended the 2022 show. Be sure you don't miss the 2023 show. Indoor and outdoor vendors.


October 2023
Des Moines Lapidary Society Gem, Jewelry, Mineral & Fossil Show 2023
October 21, 23
GLG will be at the 2022 Des Moines Gem, Jewelry, Mineral, and Fossil show on Sat. Oct. 21, 9-5 and Sun., Oct. 22, 10-4. This is a HUGE show with thousands of visitors. IOWA STATE FAIR GROUNDS, 3000 E. Grand Ave., DES MOINES, IOWA! New collection over a hundred polished specimens! Over 24 semi-precious stone varieties of sterling silver pendents.! Catch the fall scenery and join us for a FABULOUS FALL ROCK SHOW!
Anoka County Gem & Mineral Club Annual Show 2023
October 28, 2023
NO TRICK! JUST FABULOUS ROCK TREATS! FREE ADMISSION! The Anoka County Rock and Gem Club's ANNUAL SHOW When: OCTOBER 28th, 10-5 and Sunday, OCTOBER 29, 10-4. Crystal Community Center, 4800 Douglas Drive N, Crystal, MN GLG will showcase unique minerals, polished specimens, gemstone jewelry, garden rock art, meteorites, amethyst cathedrals, chakra and spirit rock collections. Sterling silver pendants showcasing over 20 varieties of stones..amethyst, astrophyllite, dendritic opal, and more.
November 2023
December 2023
January 2024
February 2024