2021 GLG Natural Gemstone Jewelry Show Dates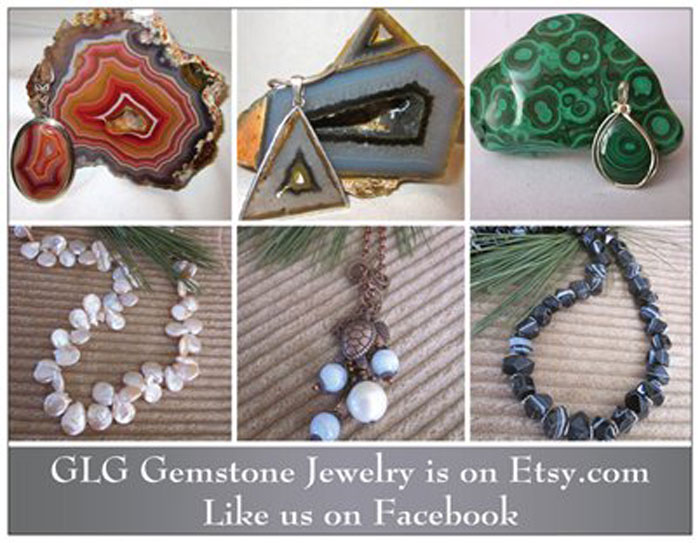 March 2021
ALL THINGS POLYHEDROIDS!
March 1, 2021
GLG celebrates March with a rare and unique agate: POLYHEDROIDS. Check out our ETSY site for single and pair polys, polished cabachons, finished poly pendants
Polyhedroid agates were discovered in 1974 in Brazil. They feature natural geometric shapes that were probably formed in the space between a lattice work of calcite plates. They were mined several times in the 1970's. No new material has been produced since then!
April 2021
CELEBRATE LAGUNA LACE AGATE - CRAZY LACE AGATE
APRIL 1, 2021
Laguna Lace Agate (aka Crazy Lace Agate) from Mexico is one of the most colorful agates in the world. Each agate is a surprise of bold colors in reds, pinks, grays, & white. Amazing banding and patterns create a visual geological journey. Check our ETSY store to find collector specimens, pendants, necklaces, slabs and more.
May 2021
Annual Cuyuna Rock and Mineral Show 2021
May 8, 2021
GLG Jewelry & Fine Agates will exhibit at the Annual Cuyuna Agate & Mineral Show on May 8, Saturday (9-5) and May 9, Sunday (10-4) (Mother's Day weekend) Mom's admission FREE on Sunday. Location: Crow Wing Co. Fairgrounds, 2000 SE 13th St., Brainerd, MN Check out our: Large agate specimens, semi-precious cabachons, gemstone jewelry, rough rock, crystals, rock art, geodes and unique specimens. We can't wait to see you!




International Gem & Jewelry Show
May 29, 2021
NEW SHOW.....Three Day Show! Memorial Day Weekend! May 29-31 Mn State Fairgrounds! Celebrate Memorial Day with a visit to the Int'l Gem & Jewelry Show. GLG will have polished specimens, unique gemstone jewelry, original agate art featuring lapis, tiger eye, Brazilian agate, crystals, geodes, and stunning 8" & 16" stone beads. Lots of surprises.


June 2021
Coulee Rock Club Annual Rock, Gem & Mineral Show 2021
June 05, 2021
IT'S BACK! GLG will be at the Coulee Rock Club annual show will be Sat. June 5 from 10-5 and Sunday, June 6, 10-4 INDOORS at the Onalaska Omni Center Arena 1, 255 Riders Club Road, Onalaska, WI All new collections of polished rock/agate specimens, new gemstone pendants, one-of-a-kind large collector specimens, agate art, crystals, geodes, more. Food, kids activities, speakers, demo and lots of free parking! A great drive from the Twin Cities....We'll be looking for you.
Eagan Art Festival 2021
June 26, 2021
Join GLG at the Annual Eagan Art Festival. Two big days! Sat. June 26th 9am-5:00pm and Sunday, June 27th, 10am-5:00pm Location: Eagan Community Center Festival Grounds, 1501 Central Parkway, Eagan, MN Finally we can celebrate summer with soft blues, hot corals, and soothing nature colors in our natural gemstone jewelry. Unique specimens, cool agates. We love this beautiful setting for a super art show!

The show requires masks at this event.



July 2021
Anoka Riverfest 2021
July 10, 2021
Anoka Riverfest 2021 returns! GLG will be at the July 10, 9am to 5pm ONE DAY show located in downtown Anoka, MN GLG will have new polished agates - Botswana, Laguna Lace, Brazilian, and more. Slabs, cabs, and gorgeous specimens plus new gemstone jewelry, agate art collection and more surprises. We look forward to seeing you in July.

Moose Lake Agate Days 2021
July 17, 2021
YAHOO! GLG will again exhibit at the Annual Moose Lake Agate Days on Saturday, July 17 (9-5) and Sunday July 18 RIVERSIDE ARENA, 20 EARL DRIVE, Moose Lake, MN GLG will be INSIDE the arena. Check out our collections of minerals, agate specimens, rough rock, agate art, crystals, fossils, plus stunning pendants. How about Polyhedroids, Laguna, Botswana, Lake Superior, Moroccan, Brazilian Agates and MORE? WE CAN'T WAIT TO SEE YOU AGAIN!
August 2021
September 2021
October 2021
November 2021
November 6, 2021
NEW SHOW: Shop for the holidays with GLG at the 2021 Cedar Valley Rocks & Minerals Society annual show: WHEN: Nov. 6th (8:30 AM to 6:00 PM and Nov 7th, 9:30 AM to 4:00 PM. WHERE: Hawkeye Downs Expo Center, CEDAR RAPIDS, IOWA
The show regularly draws 4000-5000 people. We'll bring all the best and latest from the Denver Show....see you there!

December 2021
January 2022
February 2022