2019 GLG Natural Gemstone Jewelry Show Dates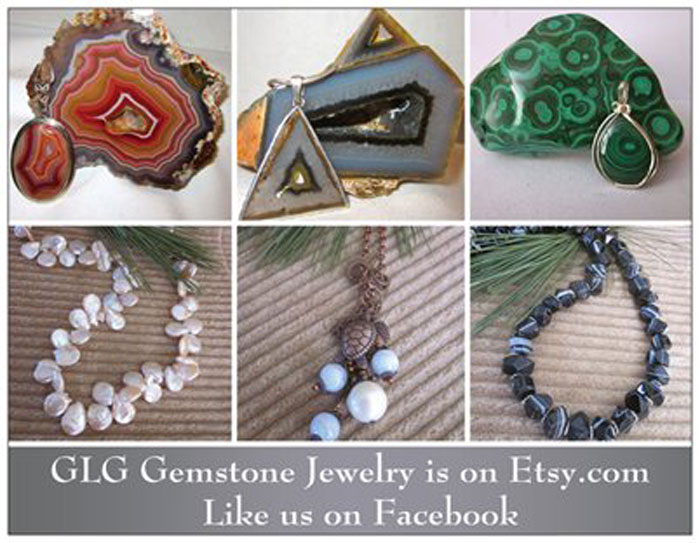 November 2019
Anoka County Rock Club Annual Show 2019
Nov. 23, 2019
GLG will be at the amazing Anoka Club's Annual ROCK SHOW! Sat. November 23 (10-5) and Sunday November 24 (10-4). Crystal Community Center, 4800 Douglas Drive N, Crystal, MN You've been waiting for this one....give a special rock gift this year. Check out GLG's natural gemstone jewelry collections of natural stone pendants, gemstone pendants, birthstone pendants....more PLUS unique rock and mineral specimens...Amethyst cathedrals, geodes, green fluorite, blue lace and more. Bring the family! FREE ADMISSION!



December 2019
Landmark Center Holiday Bazaar 2019
December, 05, 2019
Mark your 2019 calendars! LANDMARK CENTER HOLIDAY BAZAAR! Thursday, December 5th, 10-8, Friday, December 6th, 10-8 and Saturday December 7th, 10-5. Landmark Center, 75 5th ST. W in St. Paul. Bring your wish list-one stop shopping! Enjoy a beautiful setting, live holiday music, and the best of GLG jewelry. We're located on the 3rd floor, Historic Court Room 326.




Women's Arts Festival
December 14, 2019
The Annual Women's Art Festival will be held on Sat. Dec. 14, 9:30 to 4:30 at the Colin Powell Youth Leadership Center, 2924 4th Ave. South, Minneapolis, MN This is a ONE DAY ONLY SHOW. One half of the GLG team will be there with her collection of one-of-a-kind jewelry made for this event. DON'T MISS THIS ONE!


January 2020
February 2020
Tucson Gem and Mineral Show 2020
February 01, 2019
Tucson becomes a playground for the world of international gem and mineral collectors. Vendors from around the world showcase "all things rocks". Surprises! Bargains! Lots of fun. If you're interested in rocks, gems, fossils etc, put this on your top ten list of events to go to.

March 2020
Wild Sheep Foundation - Midwest Chapter Annual Fundraiser
March 13, 2020
GLG will exhibit at the Wild Sheep Foundation - Midwest Chapter on March 13, 2020 at the Minneapolis Marriott Southwest - Minnetonka, MN GLG will be showcasing amazing amethyst cathedrals, huge fossil specimens, original agate art, and stunning stain glass agate lamps plus a sneak peek at our super spring jewelry collection. Check out the Midwest Wild Sheep Foundation website for more information.

April 2020
SCI Lake Superior Chapter Annual Fundraiser 2020
April 3 , 2020
GLG will be at the SCI Annual Fundraiser will be held held at the Grand Casino, Hinkley, MN. on Friday, April 3 & Saturday, APRIL 4 This is a ticketed event! Check the SCI Lake Superior Chapter website for information. We'll have cool and unusual specimens direct from the 2020 Tucson Gem & Mineral show plus unique stone pendants, our new "bling" collection plus our favorite Water-Washed Stone collections.
May 2020
Annual Cuyuna Rock and Mineral Show 2020
May 9, 2020
GLG Jewelry & Fine Agates will exhibit at the Annual Cuyuna Agate & Mineral Show on Saturday (9-5) and Sunday (10-4) May 9 and May 10, 2019. (Mother's Day weekend) Location: Crow Wing Co. Fairgrounds, 2000 SE 13th St., Brainerd, MN We'll be INDOORS at the show. New - Dead Camel Jasper (a great story behind the name). Cobalt Lace from India. Dentritic Opal from Turkey. Wait till you see the fabulous finds we'll have at our booth. Amazing jewelry collections, free-form cabachons, and more. Great prices and perfect gifts for Mothers' Day. Lots to see and do--exhibits, demos, displays, flint knappers, Kids Korner, Door Prizes. Hey, spring is finally here. Come see all the fabulous finds we've brought back from TUCSON!
June 2020
Afton Strawberry Festival 2020
June 27, 2020
Join GLG at the Afton Strawberry Festival in the historic village of Afton, MN. Sat. June 27nd 10-5 and Sunday June 28rd 10-4 [Afton Town Square Park] We'll feature an array of quality natural stone pendants in 30 different kinds of stones...casual and classic. Free-form necklaces perfect for summer....light and airy and of course, a touch of stone. Birthstone jewelry! Lots of specimens. Oh, and such fabulous music and food. Family event.




Coulee Rock Club's "Rock, Gem & Mineral Show 2020"
June 6, 2020
Coulee Rock Club Show-and it's INDOORS. Join GLG at this amazing annual spring show located at the Onalaska Omni Center (arena 1), 255 Riders Club Road, Onalaska, WI Time: Sat, June 6, 10-5 and Sun.June 7 10-4. Check our collections of minerals, polished specimens and amazing finds from the Tucson show. Our new collection of jewelry is colorful, casual and perfect for summer. A great destination for a new rock show experience!



July 2020
Moose Lake Agate Days 2020
July 18, 2020
GLG will exhibit at the Annual Moose Lake Agate Days on Saturday, July 18 (9-5) and Sunday July 19 RIVERSIDE ARENA, 20 EARL DRIVE, Moose Lake, MN GLG will be INSIDE the arena. Check out our collections of minerals, fossils plus NEW COOL JEWELRY--pendants, necklaces, bracelets. Beautiful new specimens: wave dolomite, Polyhedroids, Laguna, Botswana, Lake Superior, Moroccan, Brazilian Agates and MORE. **Kids dig for 8 & under will be OUTSIDE THE ARENA, so you can enjoy events AND shop at the arena. This show is so much fun. See you there!
Indianhead Rock, Gem & Mineral Show 2020
07-25-2020
Join GLG at the 53rd annuall Indianhead Rock and Mineral Club Show to be held at the High School Gym, 1437 Clam Falls Drive - Frederic, WI 54837 Saturday July 25 from 10-5 and Sunday July 26th from 10-4 53rd annual show offers something for everyone who loves rocks and jewelry. Family friendly. Lunch is served on site. Free admission, Free parking, Door prizes, Agate pit for kids.


August 2020
September 2020
Afton Art in the Park 2020
September 26, 2020
Join GLG at the Afton Art in the Park celebration. SAT. Sept. 26th 10-5 and SUNDAY, Sept. 27 10-4 Afton, MN Town Square Park. Fall colors will be on full display in our natural stone jewelry pendants (casual and classic designs) plus nature's treasures-lots of polished specimens to choose from. CELEBRATE FALL COLORS OF GREEN, GOLD, RED, AND YELLOW! Great Music. Lots of yummy food! This event brings 10,000 guests through the St. Croix River Fall during the 2 day event. PUT THIS ONE ON YOUR CALENDAR.



October 2020