Top Quality! Best Selection! Great Prices!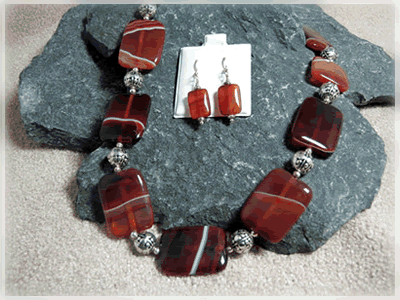 GLG Natural Gemstone Jewelry Collection - exclusive handmade natural stone jewelry - necklaces, earrings, pendants, bracelets. Free Shipping! Unique Gifts!
GLG Natural Gemstone Jewelry & Rock Shop was born from the mystery surrounding rocks and minerals. We offer 55 varieties of natural stones that brings people in touch with the beauty, color and patterns found in the natural stone world. Shop our full line of necklaces, bracelets, earrings, pendants, fossil jewelry, walrus ivory pendants and men's jewelry online and at our Taylors Falls store.
Aqua Marine Moonstone Larimar Carnelian Peridot Jade Botswana Agate Amethyst Laguna Agate Onyx Mookaite Laboradite Blue Apatite Red Creek Jasper Sardonyx Brazilian Agate Tourmaline Citrine Opal
We also offer a wide variety of collectible rocks, gems, minerals and fossils plus amazing one-of-a-kind decorator pieces.
Mineral Specimens Quartz Clusters Laguna Agate Petrified Wood Agate Slabs Stone Wind Chimes Trilobites Ammonites Orthoceras Brazilian Agate Bookends Rough Rock Botswana Agate Rock Spheres Palm Stones Geodes Tumbled Stone Lake Superior Agates Meteorites Crystal Points Metaphysical Items